Here are some delectable dishes from The Grain Train in Petoskey and Oryana Community Co-op in Traverse City – two of NW Michigan's best-known natural food stores for a few recipes to help us fill out our Thanksgiving table. You can also find many local ingredients at the area's extended season or indoor farmers markets.
Side Dishes
Oryana's Roasted Potatoes and Parsnips with Rosemary
Serves 4.
• 1 lb Providence Farm blue potatoes, diced medium
• 1 lb Second Spring Farm parsnips, peeled, diced medium
• 2 tablespoons olive oil
• 1 tablespoon chopped fresh rosemary
• sea salt and black pepper to taste
Heat oven to 450 degrees.
On a large rimmed baking sheet (or two smaller baking sheets), toss parsnips, rosemary, and potatoes with oil and season generously with salt and pepper. Spread in a single layer.
Roast until tender and golden, tossing once or twice, about 30 minutes.
Roasted Rutabaga
Serves 3 – 4
• 3 medium-sized Second Spring Farm rutabagas
• 3 tablespoons olive oil
• 2 teaspoons herbes de Provence
• 2 teaspoons sea salt
• 1 teaspoon natural cane sugar
Heat oven to 400 degrees.
Peel rutabaga and cut into 1/2-inch cubes.
Place rutabaga cubes in a large bowl and drizzle with olive oil. Stir to coat, sprinkle with remaining ingredients and stir again.
Transfer rutabaga to a rimmed baking sheet. Roast in center of the oven until edges brown and rutabaga is tender, about 45 minutes, stirring about halfway through.
You can experiment with seasonings. Try curry, cumin, chili powder, or thyme or rosemary.
The rutabaga is a close relative of the turnip but with yellowish-orange flesh and can be six to eight inches in diameter. Although it can be bitter like its cousin, the best ones are slightly sweet.

Butternut Squash Provencal from The Grain Train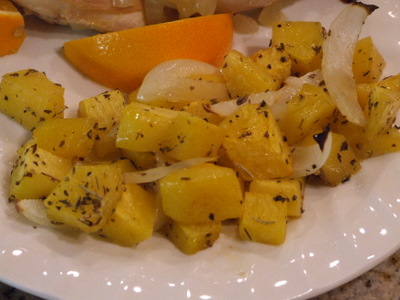 • Approx. 5# butternut squash, peeled & cut into 1/2" cubes. ( start with 8# of whole squash).
• 2 tablespoon olive oil
• 2 teaspoon sea salt
• 2 teaspoon black pepper
• 2 tablespoon garlic puree
• 1 bunch parsley, chopped
In large mixing bowl, toss cubed squash w/ olive oil, garlic puree, salt, & pepper. Spread on two large lined sheet trays. Bake in oven at 350F for 15 minutes, stir & return to oven until butternut is fork tender & browned (check in 5-10 minute intervals). Garnish with parsley. Serve hot or cold.
Soup
Oryana's Pumpkin Soup
Serves 4
• 1 small onion, chopped
• 1 smaller stalk celery, chopped
• 2 teaspoons butter or extra virgin olive oil
• 1 8 oz. can Omena Organics pumpkin puree or 2 cups fresh pumpkin puree
• 2 cups chicken or vegetable broth
• 1/2 teaspoon ground cinnamon
• 1/4 teaspoon ground nutmeg
• 1 cup Shetler's whole milk
• Seas salt and white pepper to taste
Optional: Greek-style yogurt, toasted spiced pumpkin seeds for garnish
In a large saucepan, heat oil over medium heat. Add the onion and celery and cook until softened, about 8 minutes.
Add the broth, pumpkin, cinnamon, nutmeg, salt and pepper. Bring to a boil, reduce heat and simmer for 20 minutes. Blend, using an immersion blender, until smooth. Stir in the milk and heat through but don't allow to boil.
Ladle into warmed bowls and garnish with a sprinkling of pumpkin seeds and a dollop of yogurt. Serve immediately.
Pumpkins are in season right now so you can make your own puree by roasting a small pie pumpkin and whipping the flesh in a food processor.
Make this soup dairy-free by substituting coconut milk for cow's milk and omit the yogurt.

Dessert
Oryana's Pumpkin Custard
Serves 4
• ¾ cup Omena Organics pumpkin puree
• 2 large eggs
• 1 ½ cups whole coconut milk
• 1 teaspoon vanilla extract
• ½ cup brown sugar
• 2 teaspoons cornstarch
• ½ teaspoon cinnamon
• ¼ teaspoon ground ginger
• ¼ teaspoon salt
Preheat the oven to 350°.
In a large bowl, whisk together the pumpkin, eggs, milk, and vanilla.
In another bowl, stir together the brown sugar, cornstarch, spices, and salt and add to the pumpkin mixture. Stir until combined and pour into four 3/4-cup custard cups.
Place the cups in a 9 x 11 inch baking pan and add enough warm water to come halfway up the sides of the cups. Bake for 50 minutes, or until set and browned lightly. Transfer the custards to a wire rack to cool.